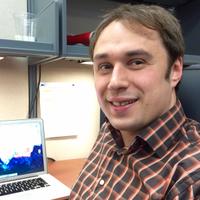 Thomas Stoeger
Postdoc
Work
Chemical and Biological Engineering
2145 Sheridan Road (Room E136)
Evanston
,
IL
60208
,
U.S.A.
Phone:
Work

+1 847-491-7231
Bio
Thomas considers the unknown to be the most intriguing part of biology. He believes that the unknown may strongly influence research and the current understanding of human health in ways that are presently only marginally understood.
In the spring of 2016 he joined Northwestern University as a Data Science Scholar of the Northwestern Institute on Complex Systems and the Center for Genetic Medicine. One of his aims is to promote research at the intersection of different scientific disciplines (e.g.: on data science and science of science)
Thomas has contributed to the first tissue-specific genome-wide RNA interference screen. There he co-discovered a series of fruit fly mutants with an altered cell polarity. During his subsequent PhD studies he developed a deep appreciation for mammalian cell biology, lab automation, image-recognition and computational biology. He was part of the first team of scientists, which could successfully predict the activity of genes for single human cells. His findings impact molecular diagnostics, the understanding of human gene regulation, and the rational design of artificial genetic circuits.
Education
Ph. D. Systems Biology,

University of Zurich, Switzerland

(2016)

M. Sc. Molecular Biology,

University of Vienna, Austria

(2008)
Awards and Honors
Best PhD Thesis of the Faculty of Science (Annual Award), University of Zurich, Switzerland (2016)
Best Poster Award, European Molecular Biology Organization (EMBO) Meeting 2013 (2013)
Highly Read on nature.com in October 2013 (Community Choice), Nature 502, 413 (2013)