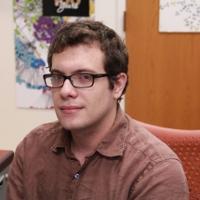 Max Wasserman
Graduate Student
Work
Department of Engineering Sciences and Applied Mathematics
2145 Sheridan Road, Room M455
Northwestern
,
Illinois
60201
,
USA
Bio
I grew up in Bethesda, Maryland and went to high school in Silver Spring as part of the Math and Science Magnet Program in my county. I attended Cornell University in Ithaca, New York where I studied mechanical engineering. While there, I learned that I much preferred the theory of mechanical engineering to the actual engineering, and I made a decision to make a transition towards applied mathematics. I spent the summer of 2008 writing articles on statistics, math, and sports for the popular sports blog The Big Lead, performing my own homemade calculations and simulations using MATLAB . After obtaining my bachelors degree in 2009, I joined the Department of Engineering Sciences and Applied Mathematics here at Northwestern.
Currently, I work in the Amaral Lab studying networks contained within the Internet Movie Database. I have become proficient in Python, which I use to perform most of my analysis. I also use R, MySQL, C++, LaTeX, Django, and various plotting programs in my work at the Amaral Lab. I have had one paper published and a second paper is in the review process. I am currently writing my dissertation as I plan to graduate at the end of 2014.
I am a member of the Northwestern Graduate Curling Club and am an avid fan of the sport. In my spare time, I run tournaments for video games and have written Python programs in order to automate the bracket-making process. I am also a former blogger, having written for the Ivy League-themed blog IvyGate, washingtonpost.com, and various sports blogs.
Education
M. Sc. Applied Mathematics,

Northwestern University

(2010)

B. Sc. Mechanical Engineering,

Cornell University

(2009)
Awards and Honors
John McMullen Dean's Scholar, College of Engineering, Cornell University (2005)