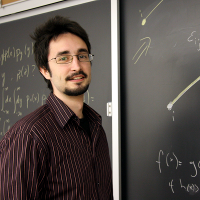 M. Irmak Sirer
Data Scientist (Alumni)
Work
Chemical & Biological Engineering
2145 Sheridan Road (Room E136)
Bio
Irmak is a partner and data scientist at Datascope, where he has helped companies across industries solve problems with data, from small companies to multiple members of the Fortune 50.
Irmak completed his Ph.D. in Amaral Lab, studying complex systems and practicing data science. He conducted and published research on a wide range of topics, including student choices in public schools, web browsing behavior of masses, global airline networks, species conservation in ecology, language topic models, and optimizing DNA sequences for high gene expression among others.
Technically, Irmak is a Material Scientist, Chemical and Biological Engineer and an Art Historian. Practically, he believes in merging knowledge from different disciplines to ask and answer the right questions. When he is not striving for this, he believes in movies, bourbon, and Elliott Smith.
Education
Ph. D. Chem. & Bio. Eng. (Complex Systems),

Northwestern University

(2013)

M. Sc. Chem. & Bio. Eng. (Complex Systems),

Northwestern University

(2009)

M. Sc. Materials Science,

Sabanci University, Turkey

(2006)

B. Sc. Materials Science,

Sabanci University, Turkey

(2004)
Awards and Honors
George Thodos TA of the Year Award, Northwestern University (2010)
Murphy Fellowship, Northwestern University (2006)
Scientist Training Group Domestic Graduate Fellowship, TUBITAK, Turkey (2005)
Merit Graduate Scholarship, Sabanci University, Turkey (2004)
Sabanci Academic Success Scholarship, Sabanci University, Turkey (2001)
Contribution Scholarship, Sabanci University, Turkey (2000)