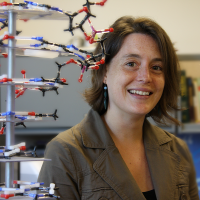 Marta Sales-Pardo
Adjunct Professor
Work
Chemical Engineering
Av. Paisos Catalans 26
Tarragona
,
Catalonia
E-43007
,
Spain
Work
Chemical & Biological Engineering
2145 Sheridan Road (Room E136)
Bio
I was born in Barcelona in 1976. I completed my undergraduate studies at the Universitat de Barcelona. My research experience started as an undergraduate in the group of Professor Javier Tejada in the Departament de Fisica Fonamental . In this same department I obtained my Ph.D. under the guidance of Felix Ritort. My thesis was on Statistical Mechanics, and in particular in the field of spin glasses. During my PhD. I made two research stays: With Andrea Crisanti in the Universita di Roma I "La Sapienza", in Italy, and, with Jean-Philippe Bouchaud in the CEA-Saclay in France. I also had the pleasure to collaborate with other people: Enzo Marinari, Marco Picco, Hajime Yoshino and Matteo Palassini.
On January 2003 I obtained an appointment as a Post-Doctoral Fellow in the group of Luis Amaral in the Chemical and Biological Engineering Department at Northwestern University. In 2004, I obtained a Fulbright Scholarship for two years. Since May 2008, I have been a research assistant professor at Northwestern University with appointments and the Northwestern Institute of Clinical and Translational Science, the Northwestern Insitute on Complex Systems, and the Department of Chemical and Biological Engineering. In 2010, I will move to Universitat Rovira i Virgili (Tarragona) where I will hold an associate professor position in the Department of Chemical Engineering.
Education
Ph. D. Physics (Advisors: F. Ritort),

Universitat de Barcelona, Barcelona, Catalunya

(2002)

B. Sc. Physics,

Universitat de Barcelona, Barcelona, Catalunya

(1998)
Appointments
Research Assistant Professor,

Northwestern University, Evanston, US

(2008-2009)

Research Associate,

Northwestern University, Evanston, US

(2006-2008)

Fulbright Scholar,

Northwestern University, Evanston, US

(2004-2006)

Posdoctoral Fellow,

Northwestern University, Evanston, US

(2003-2004)

Associate Professor,

Universitat Rovira i Virgili, Tarragona, Spain

(2009-2010)

Adjunct Professor,

Northwestern University, Evanston, US

(2009-2010)
Awards and Honors
Fulbright Scholarship, Fulbright Comission (2004)
Selected Communications
COSIN Final Meeting

Salou, Catalonia (Mar 2005)

2nd International Conference on Frontier Science

Pavia, Italy (Sep 2003)

COSIN Midterm Meeting

Roma, Italy (Sep 2003)

SPHINX General Meeting

Il Ciocco, Italy (Aug 2001)

Optimization in Complex Networks

Los Alamos, US (Jun 2006)

Workshop on The Structure and Dynamics of Complex Networks

Brasilia, Brazil (Dec 2007)