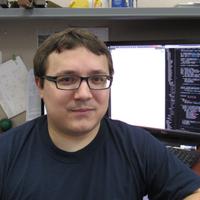 Nicholas Timkovich
Student
Work
Interdepartmental Biological Sciences (IBiS)
2205 Tech Drive (Room 2-108)
Phone:
Work

(847) 491-7231
Bio
Nick is an electrical engineer from Grand Rapids, Michigan who graduated from Kettering University in Flint, MI. After working for various engineering design companies in the West Michigan area, he wished to engage more deeply in biosciences and began a stint at Grand Valley State University, taking courses and performing research under the tutelage of Dr. Rachel Powers. The Powers Lab focused on obtaining atomic structures of beta-lactamase proteins and substrate complexes using X-ray crystallography in order to suggest how to optimize antibiotics.
Currently, Nick is a graduate student at Northwestern University in the Interdepartmental Biological Sciences (IBiS) program. Having joining the Amaral lab in Spring 2013, he currently works on developing methods for analysis of Caenorhabditis elegans ( C. elegans ) movement. The aim is to collect and analyze large amounts of information to allow specific identification of pathogenesis or make predictions regarding future health and mobility.
Still an engineer at heart, Nick works to be a force multiplier: developing the tools and methods that allow many more to push the boundaries of science.
Education
B. Sc. Electrical Engineering,

Kettering University

(2008)