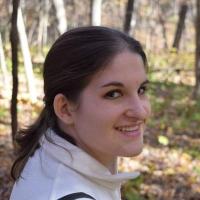 Meagan Bechel
MD/PhD Student
Bio
Growing up in a military family, I spent a lot of my early years learning how to pack and unpack boxes efficiently. However, we eventually settled in the Midwest, where I pursued a degree in Biomedical Engineering at The Ohio State University. During my four years there, I completed several internships all focused on biological imaging modalities, including computed tomography and millimeter wave applications. In my last two years, I decided to transition to a more biology intense path and chose tissue engineering as my major concentration. I completed and defended an undergraduate honors research thesis on the role of myoferlin in the epithelial-mesenchymal transition and metastasis of breast cancer.
After graduation, I took some time away from school before entering medical school. During this time, I continued to expand my skill set through many different research positions, including R&D product specialist at Nestle and phlebotomy lab lead for the OSU Stress & Pregnancy Lab. This adaptability served me well when I matriculated to the Feinberg School of Medicine at Northwestern.
During my first year, I became interested in ICU medicine and began working with Dr. Curtis Weiss in on a project focused on ventilator management in patients with Acute Respiratory Distress Syndrome (ARDS) and Acute Respiratory Failure (ARF). Dr. Weiss was collaborating with Dr. Amaral and I was fascinated by the complex system analysis phase of the ventilator management project. I decided to take a year between my third and fourth years of medical school to join the Amaral lab. At the end of that year, one year just wasn't enough and so I joined the Northwestern Medical Scientist Training Program (MD/PhD). For my PhD, I will be studying the care team networks within ICUs at both academic and community-based hospitals, specifically how the adoption of new treatment guidelines propagates through an institution. Once I have defended, I will return to medical school to complete my last year and then go on to residency training.
Education
B. Sc. Biomedical Engineering,

The Ohio State University

(2011)

M. D. ,

Feinberg School of Medicine at Northwestern University

(2018)

Ph. D. Biomedical Engineering,

McCormick School of Engineering at Northwestern University

(2020)
Awards and Honors
Undergraduate Research Scholarship (2 years), The Ohio State University (2009)
Oliphant Scholar (3 years), Northwestern University (2012)