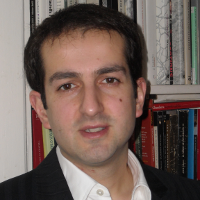 Roger Guimera
Adjunct Professor
Work
Chemical Engineering
Av. Paisos Catalans 26
Tarragona
,
Catalonia
E-43007
,
Spain
Work
Chemical & Biological Engineering
2145 Sheridan Road (Room E136)
Bio
I was born in Barcelona (Catalonia) in 1976. I studied Physics at University of Barcelona and got my PhD in the Department of Chemical Engineering of the University Rovira i Virgili, at Tarragona, under the supervision of Drs. Alex Arenas, Albert Diaz-Guilera, and Francesc Giralt. During my PhD I also collaborated with Xavier Guardiola, from the Group of Complex Systems in Barcelona, with Fernando Vega-Redondo, from Universitat d'Alacant, and with Antonio Cabrales from Universitat Pompeu Fabra. I also worked on the application of neural networks and statistical physics to the solution of combinatorial optimization problems, together with Drs. Carme Torras and Pau Bofill.
Currently I am a post doctoral fellow in Luis Amaral's Group, in the Department of Chemical and Biological Engineering of Northwestern University. My work is devoted to the application of statistical and computational physics to the study of complex networks. I am interested both in static-topological and dynamical issues of networks in physical, biological, ecological and social systems.
Education
Ph. D. Chemical Engineering (Advisors: A. Arenas, A. Diaz-Guilera, and F. Giralt),

Universitat Rovira i Virgili, Tarragona, Paisos Catalans

(2002)

M. Sc. Chemical Engineering (Advisors: A. Arenas, A. Diaz-Guilera, and F. Giralt),

Universitat Rovira i Virgili, Tarragona, Paisos Catalans

(2000)

B. Sc. Physics,

Universitat de Barcelona, Barcelona, Paisos Catalans

(1998)
Appointments
Postdoctoral Fellow,

Northwestern University, Evanston, US

(2002-2004)

Fulbright Scholar,

Northwestern University, Evanston, US

(2004-2006)

Research Associate,

Northwestern University, Evanston, US

(2006-2008)

Research Assistant Professor,

Northwestern University, Evanston, US

(2008-2009)

ICREA Research Professor,

ICREA, Tarragona, Spain

(2010)

Adjunct Professor,

Northwestern University, Evanston, US

(2010)
Awards and Honors
Session organizer, chair, and invited speaker at the SIAM Optimization conference, Society for Industrial and Applied Mathematics (2005)
Fulbright Scholarship, Fulbright Scholar Program (2004)
Selected Communications
SIAM Optimization conference

Stockholm, Sweden (Apr 2005)

COSIN Final Meeting

Salou, Catalonia (Mar 2005)

2nd International Conference on Frontier Science

Pavia, Italy (Sep 2003)

APS March Meeting

Austin, TX, US, US (Mar 2003)

AIChE Annual Meeting

Austin, TX, US, US (Nov 2004)