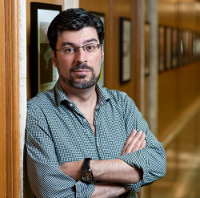 Luís A. Nunes Amaral
co-Director, Northwestern Institute on Complex Systems
Professor of Chemical & Biological Engineering
Professor of Physics & Astronomy (by courtesy)
Professor of Medicine (by courtesy)
Work
Chemical & Biological Engineering
2145 Sheridan Road (Room E136)
Phone:
Work

(847) 491-7850
Aging is associated with a systemic length-associated transcriptome imbalance
Nature Aging
,
https://doi.org/10.1
(
2022
)
Abstract
Aging is among the most important risk factors for morbidity and mortality. To contribute toward a molecular understanding of aging, we analyzed age-resolved transcriptomic data from multiple studies. Here, we show that transcript length alone explains most transcriptional changes observed with aging in mice and humans. We present three lines of evidence supporting the biological importance of the uncovered transcriptome imbalance. First, in vertebrates the length association primarily displays a lower relative abundance of long transcripts in aging. Second, eight antiaging interventions of the Interventions Testing Program of the National Institute on Aging can counter this length association. Third, we find that in humans and mice the genes with the longest transcripts enrich for genes reported to extend lifespan, whereas those with the shortest transcripts enrich for genes reported to shorten lifespan. Our study opens fundamental questions on aging and the organization of transcriptomes.